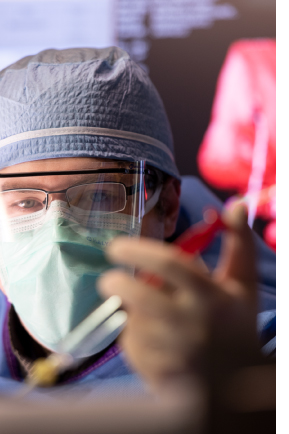 UC Health is the leading expert in the care, education and research of brain, spine and nerve disorders in Greater Cincinnati.

UC Health is proud to be the:
Region's only neuroscience intensive care unit Region's only Level 1 trauma center Home of 10 neurosurgeons, the largest and most decorated in the region Home of the most skilled neurological nurses and therapists in Cincinnati Region's referral destination Our neurosurgeons are experts in neurological disorders with extensive years in sub-specialty training—making UC Health a regional referral destination and top choice for patient care.

What makes our team stand apart is the truly integrated services, coordinated across specialties. Not one team member works in a silo—we come together to develop a treatment plan that keeps the patient and family our top priority. Together, we touch every aspect of a patient's life. We use the latest technologies for advanced diagnostic imaging, complex surgery, radiosurgery and radiotherapy, chemotherapy, inpatient and outpatient follow-up care, and neurologic rehabilitation. And we don't stop there. Integrative medicine is a critical component as is caring for the caregiver.

We also lead and engage in diverse research and our investigations help advance the science and art of neurosurgery across the country.