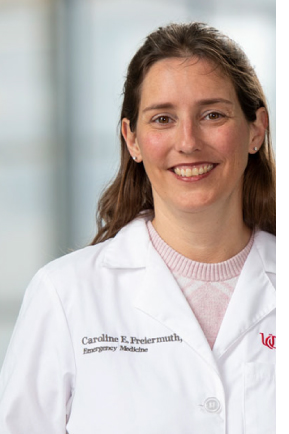 Emergency Medicine Clinical Care Emergency Medicine is recognized as one of the best Emergency Medicine programs in the country. Our Emergency Medicine training program, established by the University of Cincinnati Medical Center, was the first program of its kind when it was developed in 1970. All UC Health Emergency Medicine physicians are residency-trained in Emergency Medicine, a program that provides four additional years of specialty training.

University of Cincinnati Medical Center is designated as the region's only Level I trauma center by the American College of Surgeons. Our experienced faculty are recognized nationally as leaders in their field and are dedicated to providing outstanding patient care, and research.

West Chester Hospital has been verified as an Emergency Center of Excellence by Emergency Excellence, an organization specializing in emergency department benchmarking. The award recognizes emergency care providers that achieve a higher standard of quality. At West Chester Hospital, the emergency department offers 36 private treatment and exam rooms. The ED is designed to treat patients quickly and efficiently with the best care and latest technology available.

West Chester Hospital received verification as a Level III Trauma Center from the American College of Surgeons Committee on Trauma in 2015. Our trauma center team is committed to providing the highest quality trauma care to our community, and now has the ability to provide life-saving trauma care closer to home for people who live in the northern Cincinnati region.

Looking for Clinical Care? Schedule an appointment with a physician of UC School of Medicine and find out more information about patient services.